Price

RM3,499.00

Brand
APPLE
Availability
5
Quantity
Description
Highlight
Your next computer is not acomputer.It's a magical piece of glass.
It's so fast most PC laptops can't catch up.
It has pro cameras that can transform reality.
And you can use it with touch, pencil, keyboardand now trackpad.
It's the new iPadPro.Liquid Retina displayTry to find a more advanced mobile display. We'llwait.Liquid Retina technologyThe edge-to-edge LiquidRetina display is not only gorgeous and immersive but also features incredibly advanced technologies.1Like ProMotion, TrueTone and industry‑leading colour accuracy, which make everything feel responsive and look stunning. Quite simply, this combination of features make it the world's most advanced mobiledisplay.
Thinkdeeper.ProcamerasAdvanced cameras combined with a large display, fast performance and highly calibrated sensors have always made iPad uniquely capable. The Wide and new UltraWide cameras help you frame the perfect photo or video. And combined with studio‑quality mics and four speaker audio, you can even set up a multi‑camera filmmakingrig.LiDAR ScannerLiDAR (Light Detection And Ranging) is used to determine distance by measuring how long it takes light to reach an object and reflect back. It's so advanced, it's being used by NASA for the next Mars landing mission. And it's now been engineered to fit in the thin and light iPadPro.The custom-designed LiDAR Scanner uses direct time-of-flight to measure reflected light from up to 5metres away, both indoors and out. It works down at the photon level, operates at nanosecond speeds and opens up tremendous possibilities for augmented reality andbeyond.The LiDARScanner works with the pro cameras, motion sensors and frameworks in iPadOS to measure depth. This combination of hardware, software and unprecedented innovation makes iPadPro the world's best device for augmentedreality.Augmented realityOn the new iPadPro, AR apps become even more realistic. Placing an AR object now happens instantly. Realistic object occlusion allows AR objects to pass in front of and behind real-world structures. Improved motion capture and people occlusion are more accurate than ever. And developers will be able to create even more immersive experiences.
The pro camera system makes iPadPro incredibly versatile. Shoot, edit and share a 4Kvideo, all on the same device. Capture an entire room in one shot with the Ultra Wide camera and use Markup to redesign it on the spot. Or scan a document, sign or mark it up with ApplePencil, then send back your notes with a tap.TrueDepth cameraThe front-facing TrueDepth camera enables FaceID, the world's most secure facial authentication in a tablet — and in a computer. It also means you can chat with friends using FaceTime, take Portrait selfies or liven up your Messages conversations by turning yourself into anAnimoji.PerformanceFaster than you can say PC.A12Z BionicWith the A12ZBionic chip, iPadPro is so fast it outpaces most PC laptops available today. It makes everything you do fast and fluid, from your everyday tasks to graphics-intensive workflows. And the 8‑core graphics processor means even more performance and realism for the apps and games where it matters most.Pro workflowA12ZBionic is designed to be put to work, especially with pro apps. The 8‑core graphics processor delivers fluid performance for things like 4Kvideo editing, 3Ddesign and augmented reality. Enhanced thermal design means higher peak and longer sustained performance — critical for pro workflows. And the Apple‑designed NeuralEngine enables on‑device machine learning ready for the next generation of proapps.MultitaskingiPadOS is designed to harness the power and performance of iPadPro. Lightning‑fast hardware and powerful software were designed in concert to make every interaction snappy and smooth. Which makes working with multiple apps at once, and moving between spaces, quick andeffortless.Magic KeyboardYes, it floats.Magic KeyboardThe all-new MagicKeyboard is an amazing companion for iPadPro.2It features the best typing experience ever on iPad, a trackpad that opens up new ways to work with iPadOS, a USB‑C port for pass-through charging, and front and back protection. And it features a floating cantilever design, allowing you to attach iPadPro magnetically, and smoothly adjust it to the perfect viewing angle foryou.Full‑sized keyboardA full-sized keyboard designed for iPadPro brings individual hard key caps and a scissor mechanism with 1millimetre of travel for a responsive, comfortable and quiet typing experience. So go ahead; write your novel, knock out a business plan or rip through your inbox. And with backlit keys, you can get things done day ornight.Trackpad reimaginedThe click-anywhere trackpad opens up a whole new way to work in iPadOS. It allows control of the new cursor in iPadOS, which is perfect for tasks like editing a spreadsheet, selecting text or simply doing everything directly from the trackpad. And you can navigate fluidly with familiar Multi‑Touch gestures, like swiping to go Home and switching betweenspaces.Cursor for iPadOSThe biggest thingto happen to the cursor since point and click.Trackpad foriPadOSTrackpad support opens up powerful new ways to use your iPad. The reimagined cursor experience has been designed specifically to work in a touch‑first environment. It's contextual, so it transforms into the tool you need depending on the content you're pointing to, like buttons, app icons and text. It's perfect for tasks where you need an extra level of precision, like building a spreadsheet or editing text. You can also use intuitive trackpad gestures to quickly get around in iPadOS.Apple PencilJust for artists.
And everyone else.CreateWhether you're retouching a photo or illustrating a birthday card, the tilt and pressure sensitivity combined with the low latency of ApplePencil enable all forms of artistic expression.2And it charges while magnetically attached to your iPadPro, so it's always ready when inspiration strikes.Take notesiPad is perfect for taking notes and organising your thoughts. Sketch ideas in the Notes app as naturally as you do on paper, then catalogue them, share them or add them to a presentation. You can even search your handwritten notes. The AppStore is also full of great apps that let you organise, annotate and take your notes to the next level.MarkupMarking things up with ApplePencil is a great way to get stuff done. Take a screenshot, then mark it up. Scan a document, then sign it on your iPad. You can also easily mark up and send a PDF, and even draw directly in apps like Keynote.PortabilityGoes where no laptop would dare.Thin, light anddurableiPadPro is incredibly capable while still being easy to carry with you everywhere — slip it into a backpack or rest it on a tray table. And it has up to 10 hours of battery life to keep you going allday.3ConnectivityiPadPro is the ultimate mobile workstation. You can print, project and send files wirelessly. The USB‑C port lets you connect all types of accessories, like a camera, external drive or display. Wi‑Fi and LTE are faster than ever, so you can stay connected everywhere.4And when it's time to stream your favourite show or listen to your party playlist, iPadPro has an amazing four speaker audio system built in.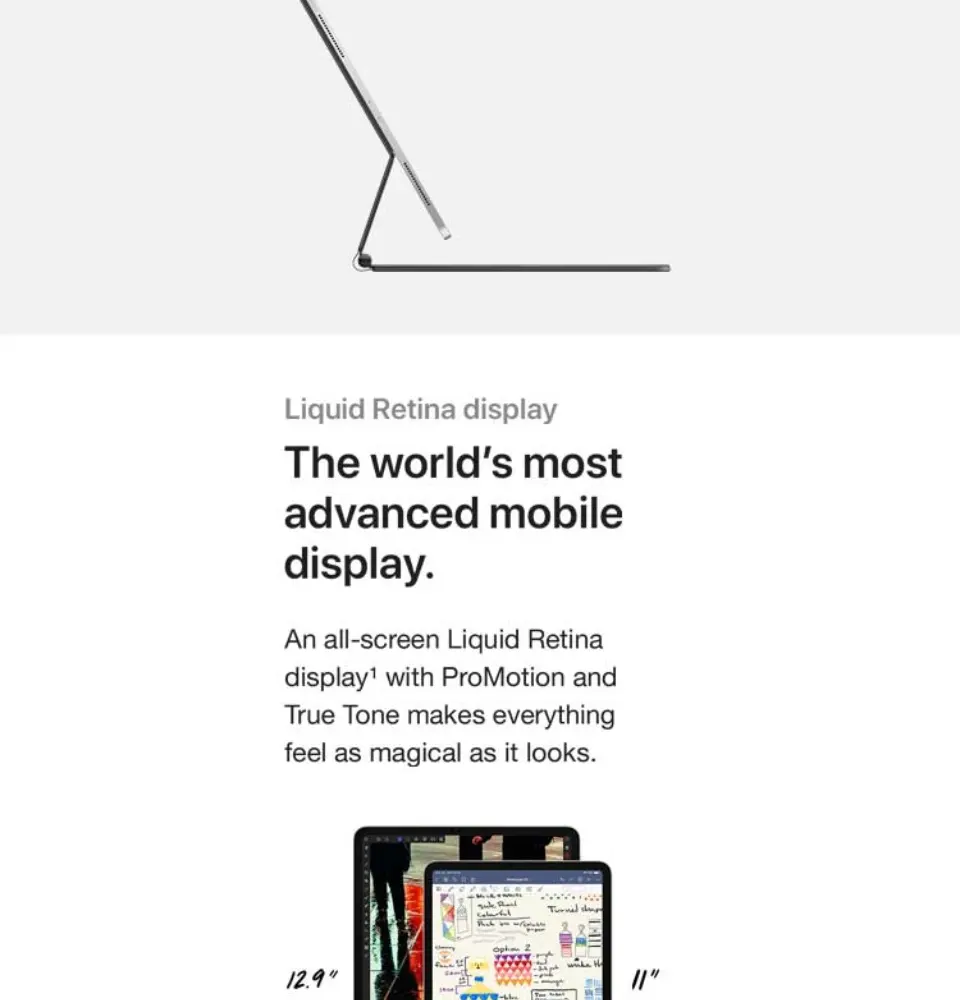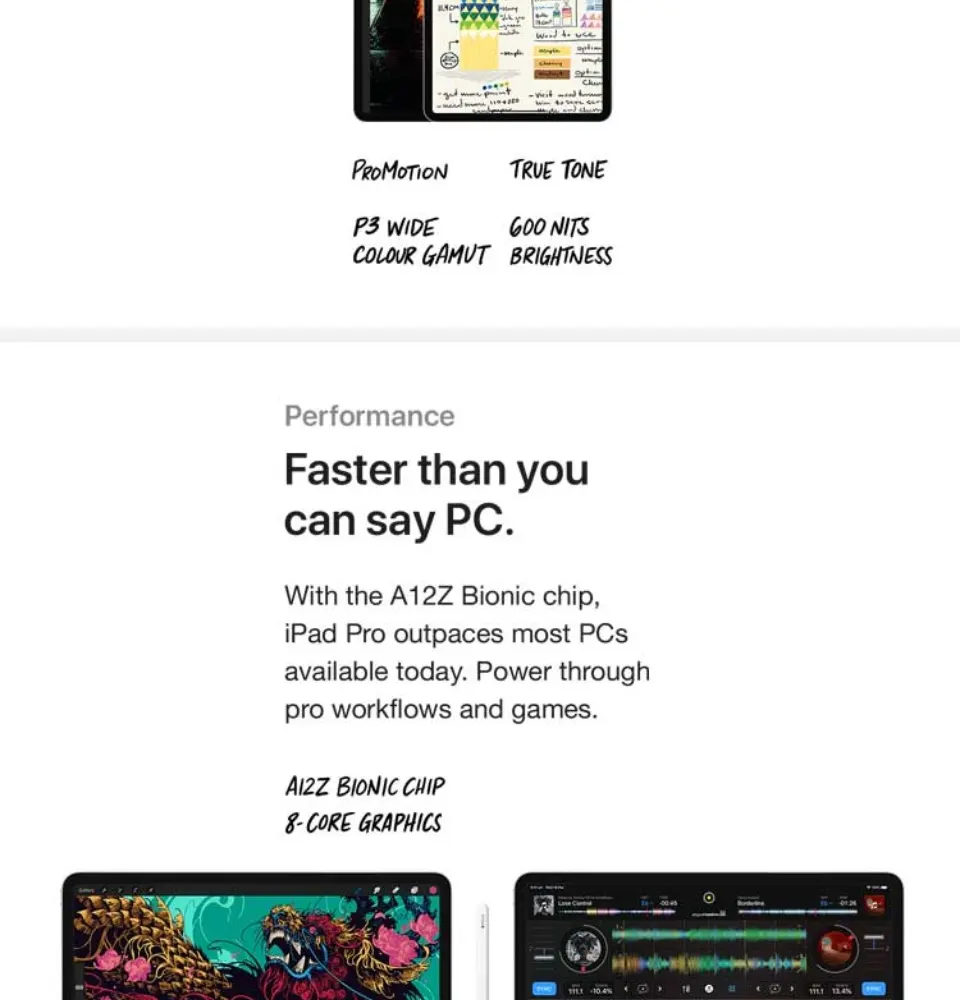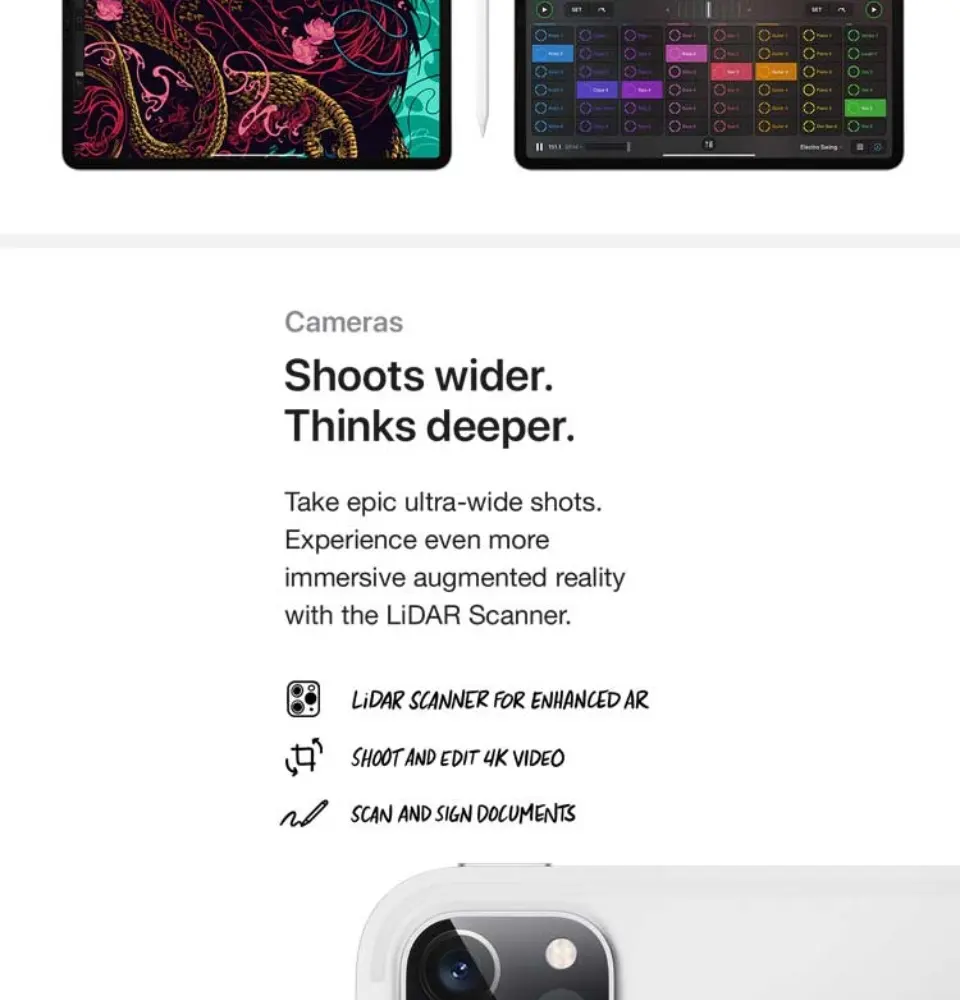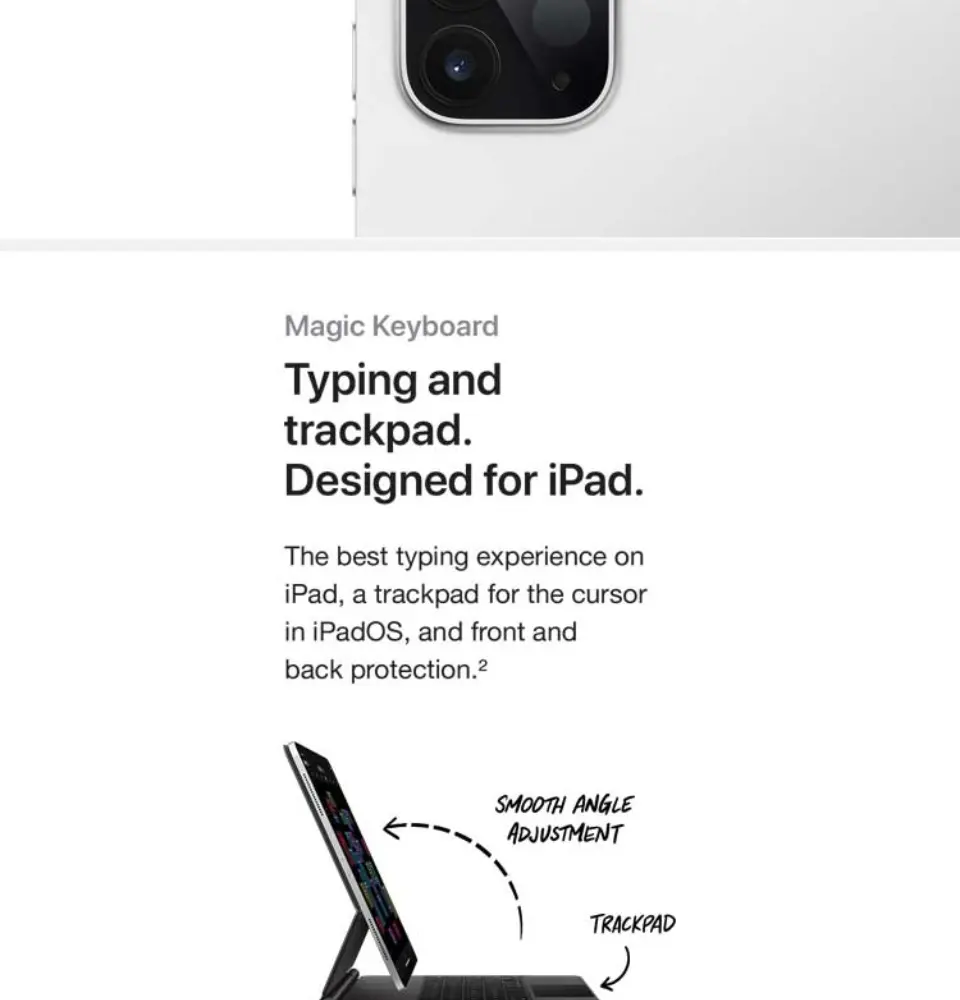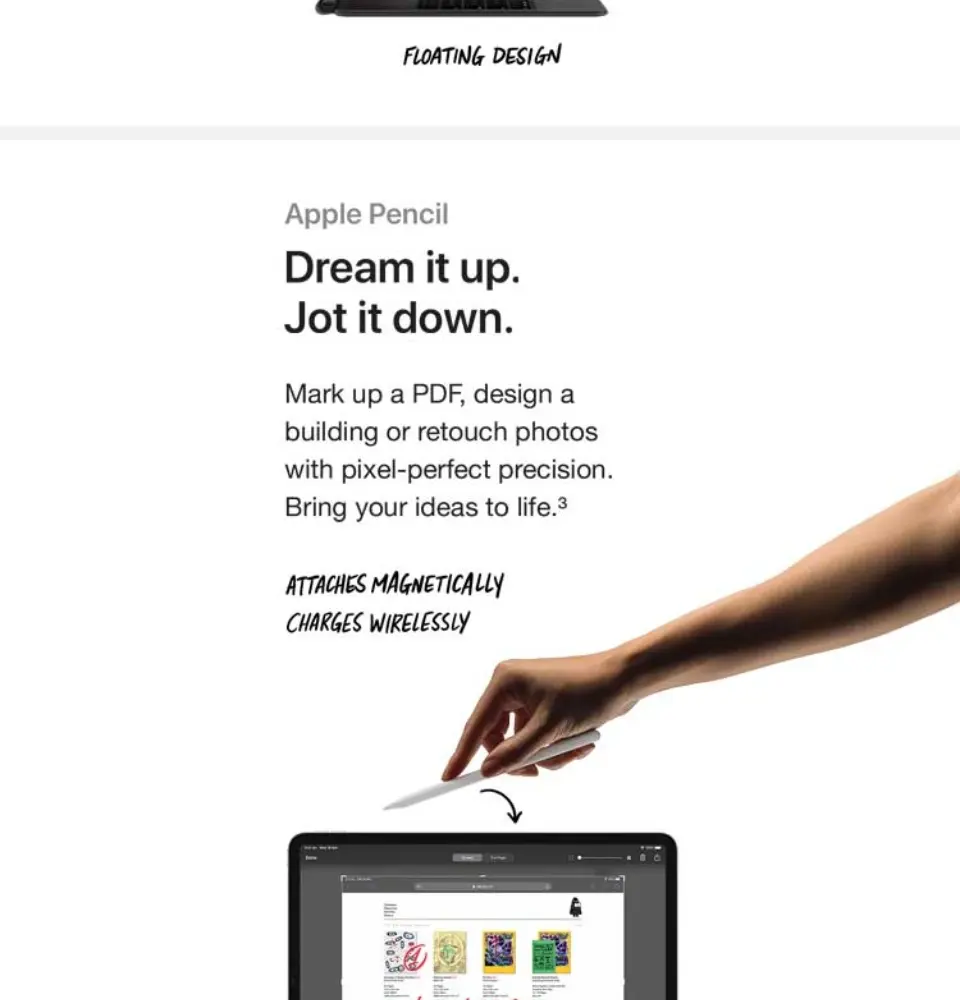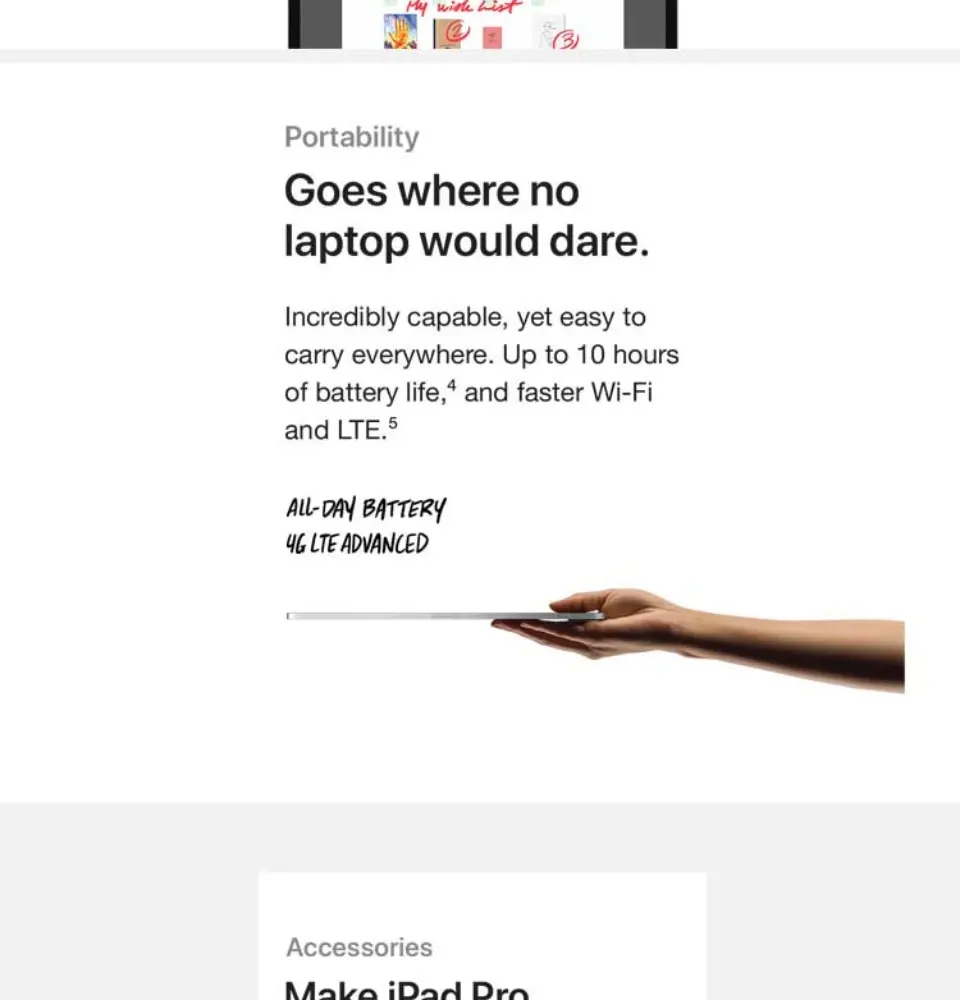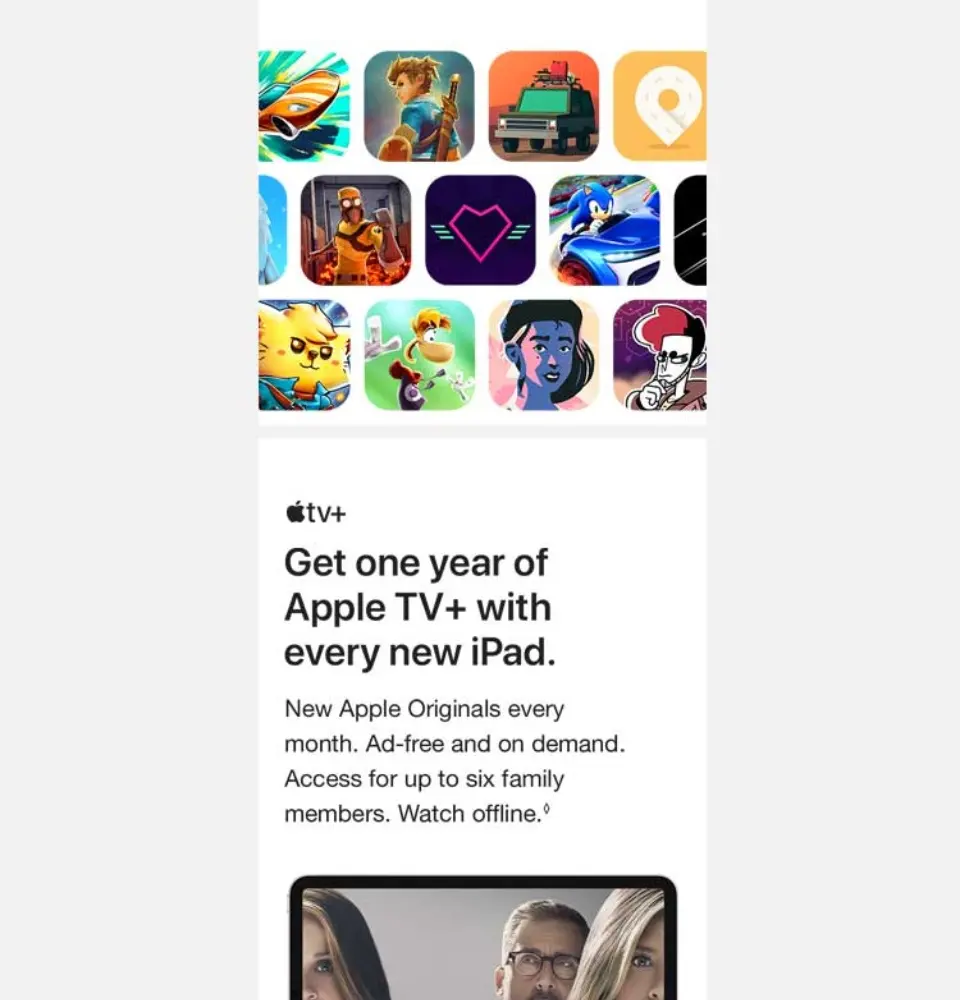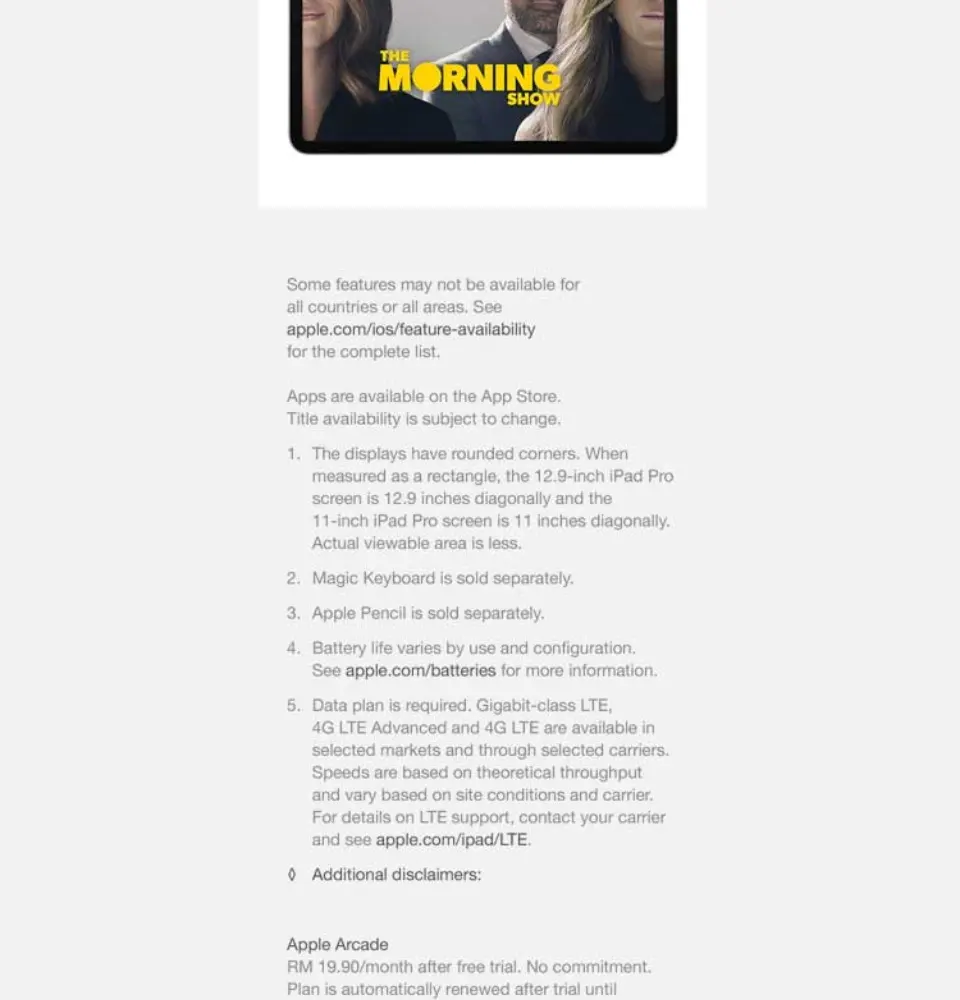 Reviews (0)
view all
back
What's in the box
11-inch iPad Pro

USB-C Charge Cable

18W USB-C Power Adapter